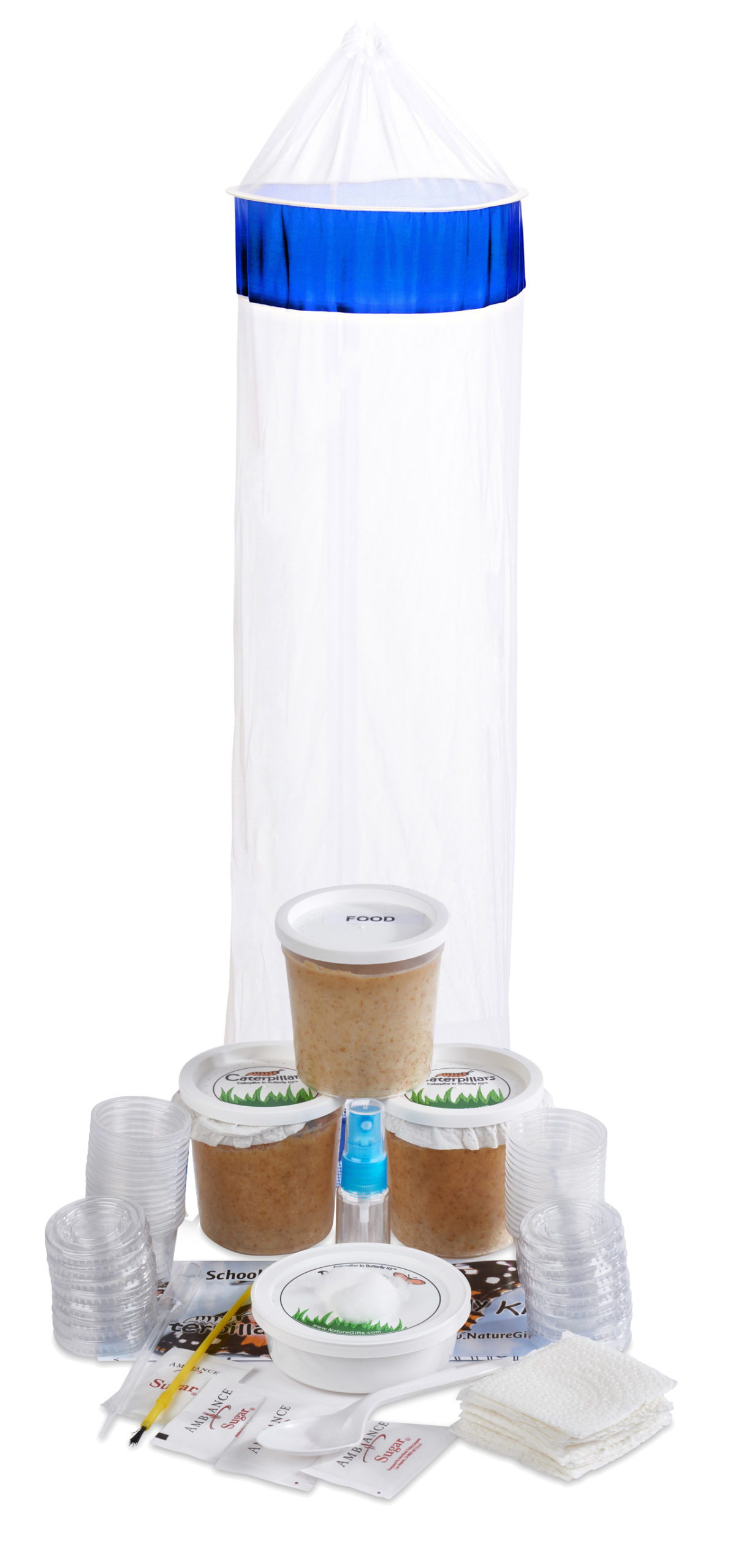 Painted Lady Butterfly Kit for School With 32 Caterpillars and Large Pop-Up Habitat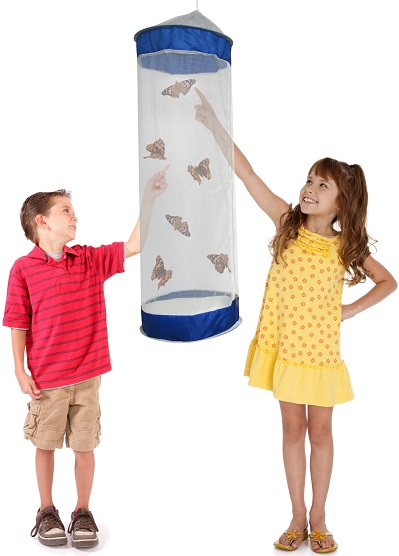 Children Playing With Butterflies in 3 Foot Hanging Habitat
School Size "Butterfly Kit"
Read Entire School Kit Instructions Here
A rewarding classroom exercise, even for teachers with no experience with live critters. Complete kit.
32 Painted Lady butterfly caterpillars, food, and 32 small cups: one for each student.

Includes a 3 foot tall hanging net cage with easy access zipper.

Get LIVE caterpillars NOW if you are ready for them OR get a FREE certificate to mail in for caterpillars later.
Comes with: Mister, butterfly feeder, sugar, eye dropper, net cage, easy instructions, coloring pages, and caterpillars.
You can release them outside after observing them if it's over 50 degrees.

Please do not order if below 40 degrees or above 85 degrees in your area.

Our live arrival guarantee will be void if ordered during these temperatures.
Purchase Orders:

For schools, organizations, and institutions looking to make purchase orders note that we accept purchase orders by mail, email, or fax. Call-in purchase orders are not accepted. Please include a signature from a billing authorization official. We ship orders made by purchase orders within 2-5 business days. Invoice is included in the package and is also mailed to the billing address on the PO.
Recommended for ages 4 years and up, with adult supervision
WARNING: CHOKING HAZARD — Small parts. Not for children under 3 years
$56.95 – $59.95
Kit With 32

LIVE

Caterpillars SENT NOW
Large Pop Up Cage
Kit With FREE Certificate For 32 Caterpillars LATER
Large Pop Up Cage
You may also like…
Grow a Frog Kit – Leopard frog

This LIVE frog growing kit offers children the unique opportunity to grow a frog from a tadpole.  Kids get hands-on experience with the frog life cycle!
Our medium kit is 1 gallon while our large kit is 2 gallons. The habitat is a safe and healthy home for the tadpole shipped directly to your home. Lids are an assortment of bright colors.
2 Choices: Receive your kit with your LIVE Tadpole(s) NOW if you are ready for it
OR, receive your kit with a FREE certificate that must be mailed it to receive Tadpole(s) at a later date.
Order tadpole kits ANY time of year- a Fun Winter Project!
Everything you need is included. Contains: habitat, live tadpole(s), tadpole food, water treatment solution, water change cup, plastic plant, life-cycle coloring page, and easy instructions.
LIVE arrival guaranteed. 

Please do not order if below 40 degrees or above 85 degrees.

 Our live arrival guaranty will be void if ordered during these temperatures.
Please note: this time of year many of our tadpoles are developing their back legs. Your tadpole may come with smaller back legs.

Recommended for ages 6 years and up, with adult supervision

WARNING: CHOKING HAZARD — Small parts. Not for children under 3 years

$

24.95 –

$

38.95

Complete Butterfly Kit – Painted Lady Butterflies

LIVE

Painted Lady Butterfly Caterpillars with food ship WITH your kit.
Order your kit with live caterpillars now OR receive your kit with a FREE certificate which you can redeem to get your caterpillars at a later date.
Plus a Mister, butterfly feeder, sugar, eye dropper, instructions, and coloring page.
5 caterpillars are sent in 1 cup, 10 are sent as 2 cups of 5.
Guaranteed! We guarantee 3 out of every 5 caterpillars to become happy adult butterflies.
You can release them outside after observing them if it's over 50 degrees.

Please do not order if below 40 degrees or above 85 degrees in your area.

Our live arrival guaranty will be void if ordered during these temperatures.

Recommended for ages 4 years and up, with adult supervision

WARNING: CHOKING HAZARD — Small parts. Not for children under 3 years

$

24.95 –

$

38.95