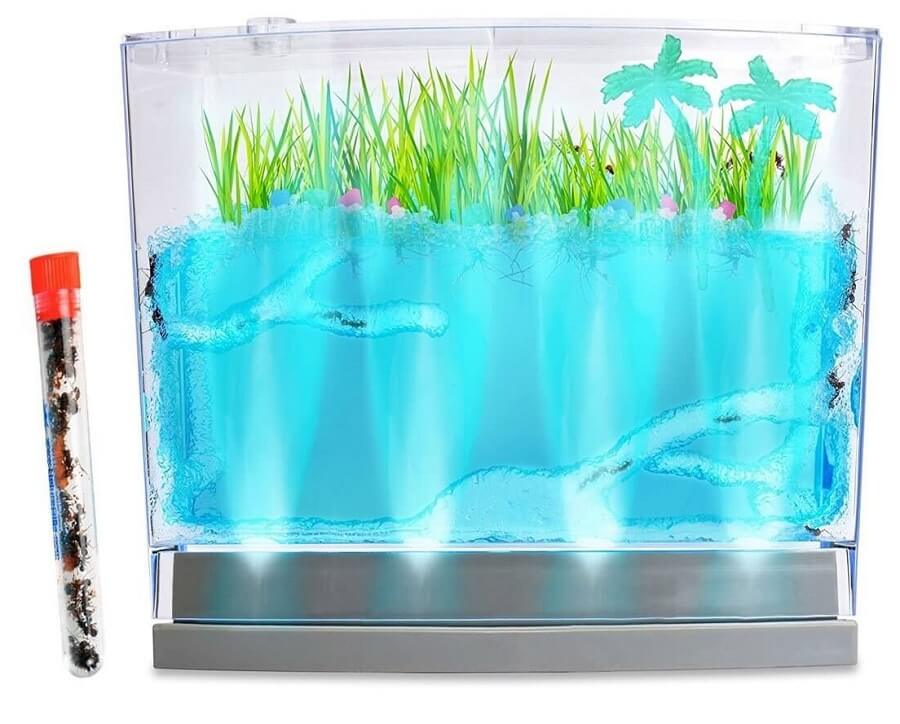 Lighted Ecosystem Ant Habitat With Live Ants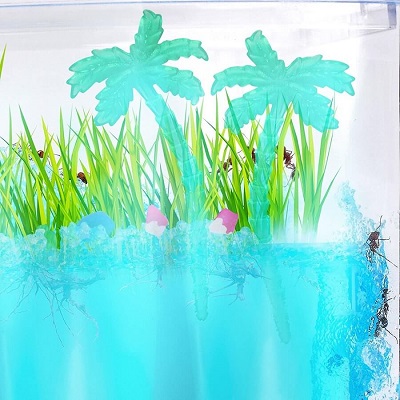 Close-Up of Lighted Ecosystem Ant Habitat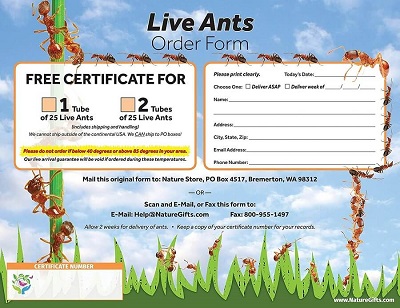 Certificate for Ants Later
Lighted Ecosystem Ant Habitat Kit Supplies
Lighted Ecosystem Ant Habitat Shipped With Live Ants
Ants and Plants live in a perfectly balanced environment. This amazing gel eco-terrarium reproduces life in a terrarium. Watch ants dig tunnels and the plants develop their roots before your eyes.
Bright Blue LED bulbs LIGHT UP the ant tunnels! Comes with removable LED base and 110V AC Power adaptor.
This unique gel is perfect for the ants to dig their tunnels and provides all their food and water.
The gel also allows you to grow seeds (provided) and watch the ants working their way around the roots in a perfectly balanced ecosystem the same way they do underground in nature.
Kids decorate their habitat (before adding the ants) with palm trees and colorful rocks then plant the included seeds.
Includes clear nutrient gel in 6.5"x5.5"x1.5" ant farm, magnifying glass, tunnel starter tool, seeds, 2 palm trees, rocks and instruction sheet.
Order your kit with live ants now OR receive your kit with a FREE certificate which you can redeem to get your ants at a later date.
LIVE arrival guaranteed. Please do not order if below 40 degrees or above 85 degrees in your area. Our live arrival guaranty will be void if ordered during these temperatures.
Ages 8+
IMPORTANT: We recommend adult supervision for setting up and managing the ant farm. Please follow the instructions that have been provided with your ants and ant farm. Harvester ants can bite or sting to protect themselves when handled, touched, or provoked. If you're allergic or sensitive to insect bites and stings, take extra caution in setting up and managing the ant farm.
Recommended for ages 8 years and up, with adult supervision
WARNING: CHOKING HAZARD — Small parts. Not for children under 3 years
CAUTION: ELECTRIC TOY. Not recommended for children under 8 years of age. As with all electrical products, precautions should be observed during handling and use to prevent electric shock
$29.99 – $34.99
Kit With 1 Tube Of

LIVE

Harvester Ants SENT NOW
Kit With 2 Tubes Of

LIVE

Harvester Ants SENT NOW
Kit With FREE Certificate For 1 Tube Of Harvester Ants LATER