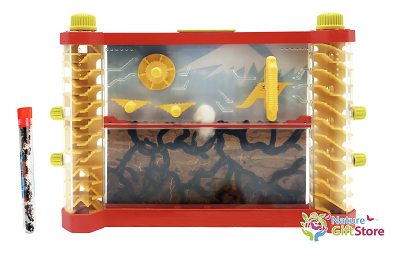 Interactive Ant Habitat with Live Ants
This unusual ant habitat has interactive elements that your pet ants can play with, such as ladders, see-saws, a merry-go-round, and platforms. Children will have a lot of fun watching and learning from the playful performances of their ants in the Interactive Ant Habitat.  
The kit includes 1 tube of live harvester ants, 9" x 6″ ant habitat, clean tunneling sand, clear connecting tube, magnifier, stand, tunnel starter tool, water dropper and illustrated 'Ant Keeping Guide'.
One tube contains 25 live red harvester ants plus a few extra, with food.
If you purchase more than one of these ant habitats, you can connect them together. The ants will travel between the ant habitats in their big colony.

Please do not order if it's below 40°F or above 85°F in your area. 

Our

 

live arrival guarantee

 

will be void if ordered during these temperatures.

IMPORTANT: We recommend adult supervision for setting up and managing the ant habitat. Please follow the instructions that have been provided with your ants and ant habitat. Harvester ants can bite or sting to protect themselves when handled, touched, or provoked. If you're allergic or sensitive to insect bites and stings, take extra caution in setting up and managing the ant habitat.
Recommended for ages 8 years and up, with adult supervision
WARNING: CHOKING HAZARD — Small parts. Not for children under 3 years
$24.95