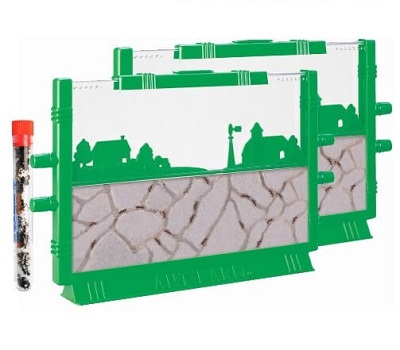 Pair of Connectable Ant Farms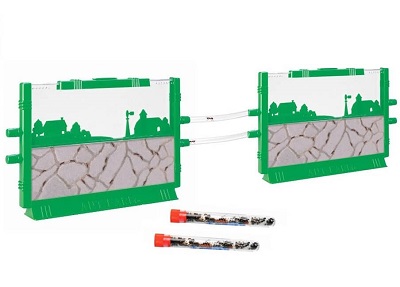 Two Ant Farms Connected Together With Antway™ Connector Tubes
Certificate for Ants Later
2 Connectable Ant Farms Shipped With Live Ants
Set of 2 large 9″wide by 6″ high Uncle Milton's world famous original and multiple award winning ant farms.
Ants travel between the 2 ant farms through clear, flexible Antway™ Connector Tubes.
Includes 24-inch clear, flexible Antway Travel Tube for connecting Antports, water feeder, clean tunneling sand, and illustrated 'Ant Watcher's Guide.'
Order your kit with live ants now OR receive your kit with a FREE certificate which you can redeem to get your ants at a later date.
LIVE arrival guaranteed.

Please do not order if below 40 degrees or above 85 degrees in your area.

Our live arrival guaranty will be void if ordered during these temperatures.
IMPORTANT: We recommend adult supervision for setting up and managing the ant farm. Please follow the instructions that have been provided with your ants and ant farm. Harvester ants can bite or sting to protect themselves when handled, touched, or provoked. If you're allergic or sensitive to insect bites and stings, take extra caution in setting up and managing the ant farm.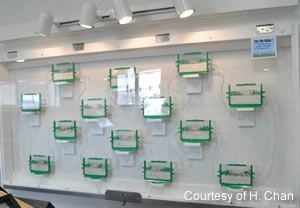 Recommended for ages 8 years and up, with adult supervision
WARNING: CHOKING HAZARD — Small parts. Not for children under 3 years
$34.99 – $39.99
Kit With 1 Tube Of

LIVE

Harvester Ants SENT NOW
Kit With 2 Tubes Of

LIVE

Harvester Ants SENT NOW
Kit With FREE Certificate For 1 Tube Of Harvester Ants LATER